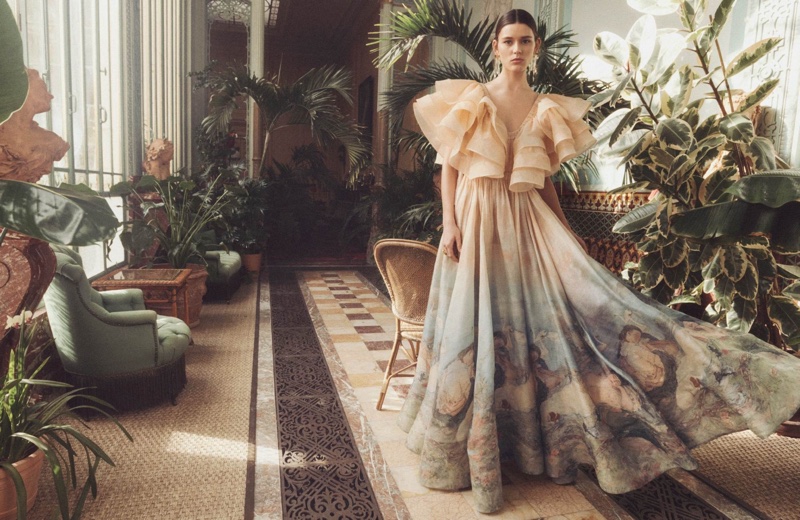 In the heart of Paris, Zimmermann unveils its fall-winter 2023 campaign, with the spotlight on Swiss model Vivienne Rohner. The Luminosity campaign is a dream, spotlighting a collection infused with Pre-Raphaelite artwork inspiration from Rupert Bunny, complete with painterly prints.
Zimmermann Fall/Winter 2023 Campaign
Rohner poses for Benny Horne's lens in a medley of dramatic long gowns and short dresses fit for a tea party, each piece styled by Romy Frydman. Highlights of the collection include the 'Luminosity Spliced Dress,' an ode to a garden scene gracefully adorned with lace.
There's also a delightful Zimmermann ruched mini dress featuring a pleated skirt with long sleeves. Amidst the collection, another standout is a black lace dress, which Rohner models while casually lounging on a couch.
The Zimmermann fall 2023 campaign follows on the heels of the Australian brand's past successes: a vibrant summer swim style showcase set in Hawaii and a spring 2023 advertising campaign held in Italy. The fall campaign continues the journey, this time in the City of Light.
Complementing Vivienne's look, James Rowe's expert touch creates a sleek ponytail while Jodie Boland crafts the perfect makeup look. See more of the fall campaign below.