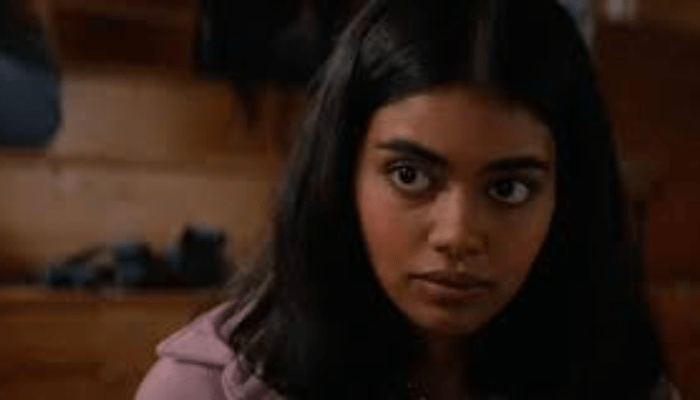 It Lives Inside Review
It Lives Inside (2023) Film Review from the 27th Annual Fantasia International Film Festival, a movie directed by Bishal Dutta, written by Ashish Mehta and Bishal Dutta and starring Megan Suri, Neeru Bajwa, Mohana Krishnan, Betty Gabriel, Vik Sahay, Gage Marsh, Jamie Ives, Siddhartha Minhas, Paige Shaw, Sangeeta Wylie and Carlo Yu.
It Lives Inside is the perfect movie for fans of 2002's The Ring and although it has some similarities to that masterful horror film, the new picture is unique and compelling in its own right. PG-13 horror movies are a risky venture because they sometimes fall short in terms of scares and end up playing it too safe for their own good. Not It Lives Inside. The director, Bishal Dutta, creates a frightening atmosphere for the film and the gimmicks Dutta uses are also reminiscent of those from other horror movies. A key character holds a book which is like a miniature version of the one featured in the original The Evil Dead movie. The creature in the movie makes sounds like the monster in The Ring. These homages will happily please knowledgeable horror film-goers.
This new scarefest stars Megan Suri as Samidha who has given up a bit of her Indian culture to fit in and sacrificed a friendship with Tamira (Mohana Krishnan) in the process. Tamira (initially looking like something out of The Grudge) comes to Samidha telling her "it lives inside" regarding a demonic force which is contained inside a jar but when Samidha accidentally causes the jar to be broken in their school gym's locker room, that which lives inside is about to wreck havoc on the town in which these girls live.
Neeru Bajwa (very good here) plays Samidha's mom, Poorna, who gave up a lot in her life to raise Samidha. The mother-daughter interaction is very well displayed in the movie as the two characters argue through the movie while Samidha tries to uncover the mystery surrounding Tamira's disappearance. Since Samidha was the last one to see Tamira alive before she vanishes, there is a great deal of tension built up in the plot.
There is a past involving a boy who died and the characters slowly uncover the details behind what is truly happening in the film's story line. Samidha is shy but still befriends a guy named Russ (a well-cast Gage Marsh) who wants to dance with Samidha at a party. Although Russ ends up meeting an eventually gruesome fate, the interaction between Russ and Samidha makes for some interesting scenes early in the film. They help develop Samidha as a character.
Betty Gabriel plays a wise teacher named Joyce who also gets involved in the movie's premise as well. Gabriel was well-chosen for the role and plays it with the actress's competent level of expertise. It is, however, Mohana Krishnan who has the hardest role in the film. As the outcast and abandoned friend, Tamira, Krishnan draws the viewer in wondering how she became such an outsider and what secrets are behind what the jar she had contained.
Still, Megan Suri is a very reliable leading star who will be just what audiences need to stick with the movie. As Samidha, Suri is inquisitive, uncertain and has a sense of self but her character holds a lot of her true self in to try to fit in with the crowd. She tries to be sensitive to Tamira but ends up becoming involved in a terrifying situation which gets more complicated as the movie continues.
It Lives Inside has a lot of dark scenes in it. Sometimes, it's hard to decipher exactly what's going on but that's part of the fun of it. The movie takes you into its world and the sound of the movie is excellent creating an eerie and chilling atmosphere for the events of the picture to transpire. It's the type of film to see with an audience since there are jump scares and scenes where the audience will want to talk back to the screen. Yes, the movie has a lot of conventional situations but as the story unveils its secrets, you may be too interested in what happens to notice.
One of the most entertaining things about It Lives Inside is its portrayal of family, values and friendship. Samidha explores her own options in life but always comes back to her upbringing, family traditions and her friendship with Tamira. Though the movie takes its viewers on a terrifying journey, there's substance to the picture that makes it stand out from your traditional horror film. It Lives Inside is nothing short of a good scare that will have audiences wondering what that creature who "lives inside" is all about.
Rating: 7/10
Leave your thoughts on this It Lives Inside review and the film below in the comments section. Readers seeking to support this type of content can visit our Patreon Page and become one of FilmBook's patrons. Readers seeking more Fantasia International Film Festival news can visit our Fantasia International Film Festival Page, our Film Festival Page, and our Film Festival Facebook Page. Readers seeking more film reviews can visit our Movie Review Page, our Movie Review Twitter Page, and our Movie Review Facebook Page. Want up-to-the-minute notifications? FilmBook staff members publish articles by Email, Feedly, Twitter, Facebook, Instagram, Tumblr, Pinterest, Reddit, Telegram, Mastodon, and Flipboard.