Summary
Instagram's direct messaging feature allows users to customize the theme of each chat, improving their aesthetic preferences and viewing experience.
Users can change the background of their Instagram DMs by selecting a conversation, tapping the title, and choosing a theme or color option.
Changing the background of individual DMs personalizes conversations, helps identify chat threads, and can reduce eye strain and improve functionality. However, custom chat themes or gallery images are not supported.
Instagram's direct messaging feature has a switch that lets users modify the theme of each individual chat to a less plain one. This ability gives users a better handle on customizing the media-sharing app's interface so that it fits their aesthetic preferences more. In some cases, it can even improve their experience in viewing content on the platform.
Being able to stay on top of their Instagram inbox is something all users should be adept at, and there are quite a few features they can play around with to ensure that they aren't inundated with too many unread messages. A feature that may have multiple practical benefits is the ability to change the background of Instagram DMs. To do this, simply launch the Instagram mobile app and hit 'Inbox' (chat bubble icon) in the top-right corner of the screen. Select a conversation from the list of DMs and tap the title of the chat thread. Tap on 'Theme' and select one from the many available background options to use.
Related: How To Turn Off Vanish Mode On Instagram
Changing Instagram Chat Wallpaper
Instagram's DM Themes are divided into two sub-categories. Selections listed under 'Themes' are ones that change the wallpaper of Instagram DMs. These are regularly updated and may include designs showcasing Instagram's latest trends. The ones listed under 'Colors & gradients' only change certain elements, like the color of chat bubbles and icons. These options are free from busier design elements.
Changing the background to individual Instagram DMs is a great way to personalize conversations with certain individuals or groups. It's also a nice change from the monotony of just a plain white or black background. Those who regularly message their friends via Instagram DM will have an easier time making sure they are responding to the right chat thread just by simply glancing at the chat theme and recognizing it immediately.
Another perk Instagram users may not have considered is the way background color or design can drastically improve the app's overall functionality and the user's experience while on it. Over-exposure to a mobile device screen ⁠— especially one that has its brightness turned way up ⁠— can cause major eye strain and fatigue. For Instagram users who enjoy being on the app for hours, enabling a chat theme that's less strenuous to the eyes (like 'Lo-Fi', 'Monochrome', or one of the darker gradients) can be a useful modification. It can also aid users in being less conspicuous when browsing through their Instagram inbox in public and dimly lit environments.
Can You Set Instagram Chat Wallpaper From Your Gallery?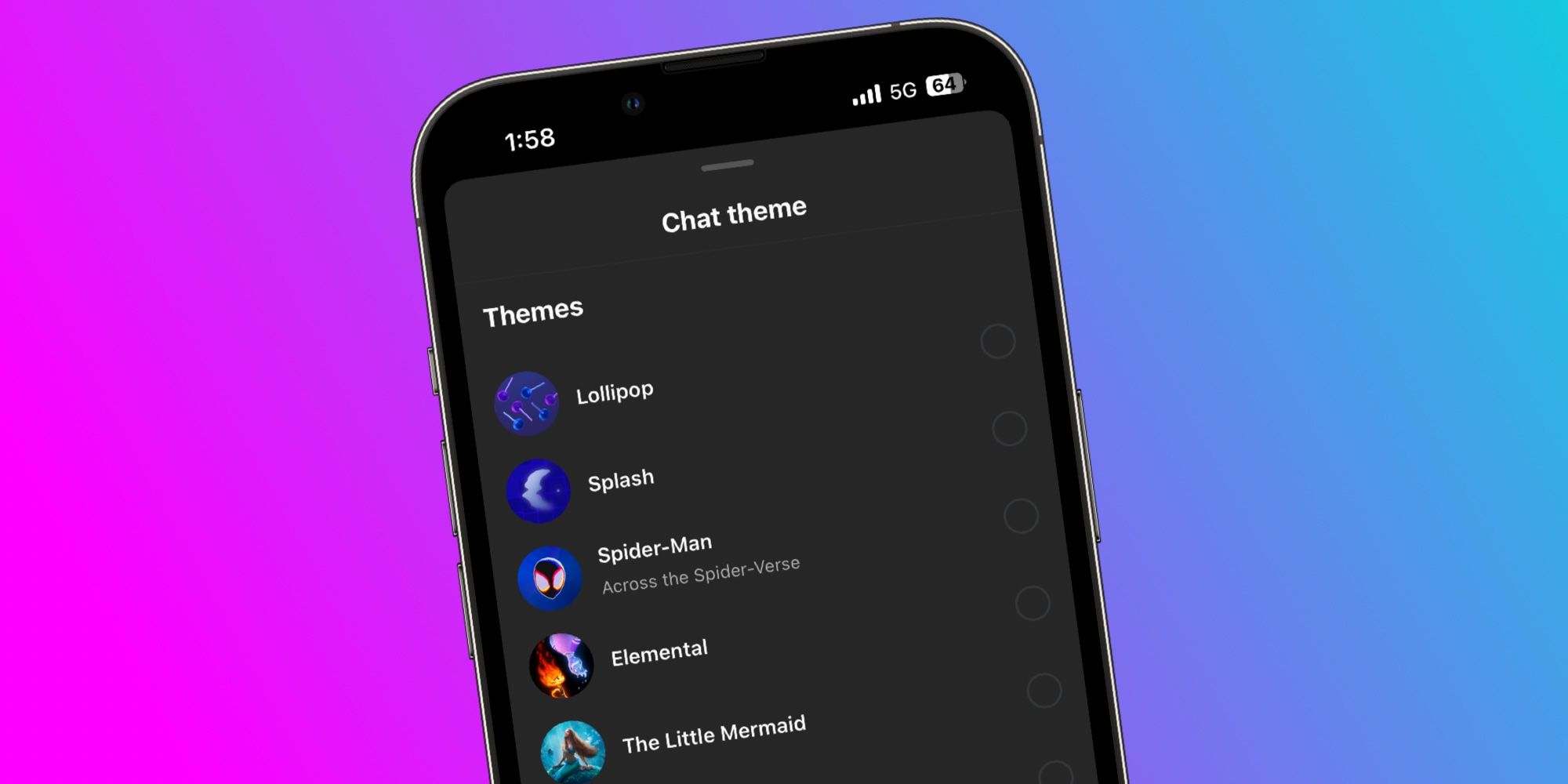 Unfortunately, Instagram doesn't allow users to set a custom theme for their chats, which means they will not be able to use an image from their phone gallery as wallpaper. Instead, they will need to choose from Instagram's selection of themes. When an Instagram user changes their chat background, it also changes for the other person in the chat. So it's worth keeping this in mind before changing the theme, unless users are sure that the other person won't mind.
The chat backgrounds can also be changed for groups. Any person in the group can change the background, and it will change for everyone else. Unfortunately, Instagram doesn't provide a way to preview chat themes. As a result, users may find themselves cycling through various themes before they can decide on which one to use for their Instagram DMs.
Source: Instagram