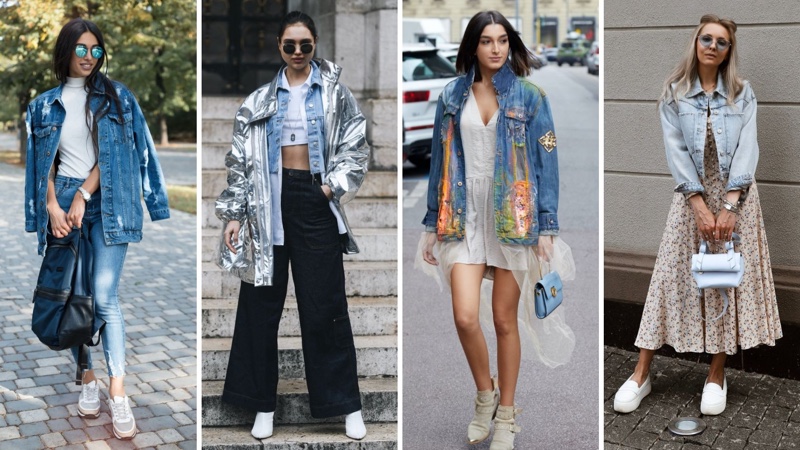 Denim jackets are the quintessential wardrobe staple that seamlessly blends comfort with style. Knowing how to wear a denim jacket is essential for fashion lovers, as these jackets are versatile, timeless, and effortlessly chic. 
They are the ideal outerwear for any season, whether you want to dress up a casual outfit or add a layer of warmth on a chilly day. Our guide will explore various ways to style a denim jacket, exploring diverse outfit combinations and tips to help you flaunt this classic piece with flair.
How to Wear a Denim Jacket: The Timeless Appeal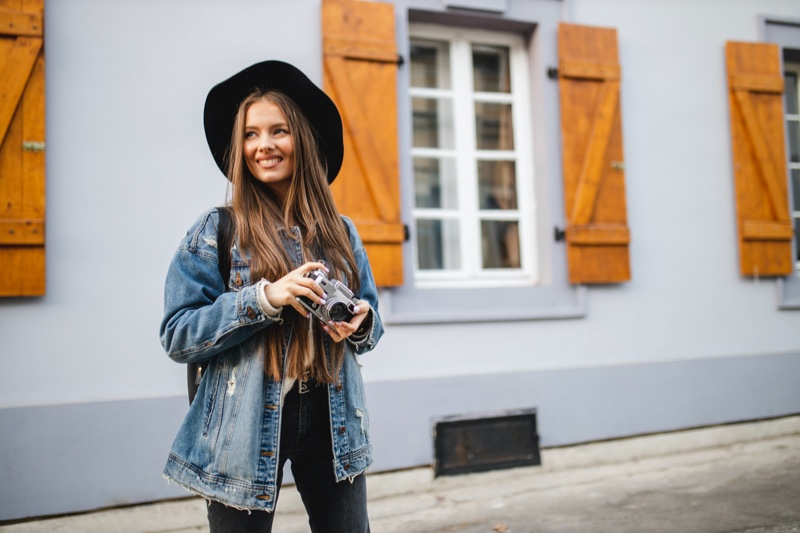 Denim jackets have cemented their place in the fashion world for their unrivaled versatility. You could wear a sophisticated dress or a simple tee with joggers, and the denim jacket will never look out of place. Its compatibility with various clothing items makes it an essential enduring wardrobe.
90s Style Jacket, Tank Top + Ripped Jeans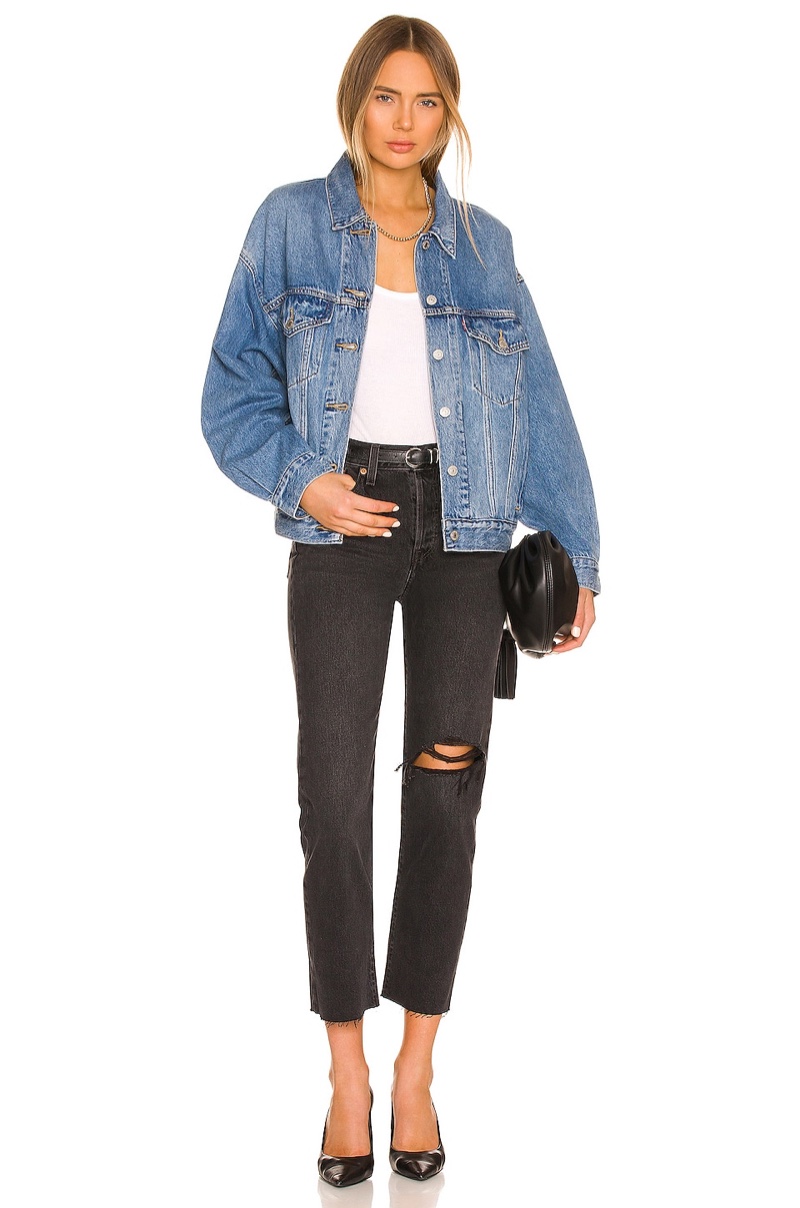 Channeling a vintage era, a 90s-style denim jacket paired with a simple tank top and ripped jeans exudes a laid-back yet edgy vibe. This outfit harks back to the days of rock bands and MTV marathons. 
The jeans' distressed detailing complements the jacket's rugged feel, making it a perfect ensemble for those aiming for that nostalgic, retro look. Opt for brands like Levi's or Wrangler for a classic choice. Finish the outfit with chunky combat boots or casual sneakers for a genuine 90s throwback.
Light Jacket, Crop Top + Midi Skirt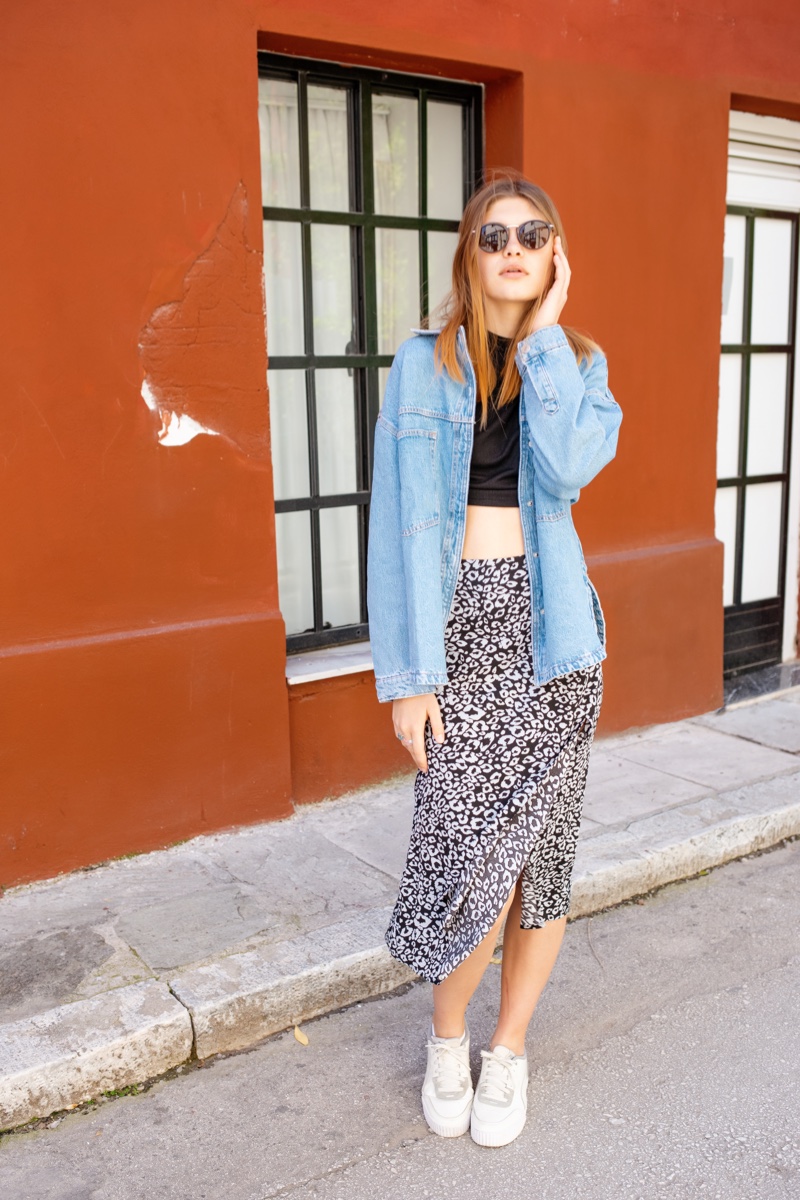 Embodying an airy and elegant aesthetic, a light denim jacket coupled with a chic crop top and a flowing midi skirt captures the essence of casual sophistication. The structured jacket's pairing with the midi skirt's fluidity strikes a balance between relaxed and refined. 
Ideal for brunch dates or a stroll in the park, this outfit can be accessorized with delicate jewelry and strappy sandals to accentuate its effortless charm.
Boxy Jacket, Tee + Denim Shorts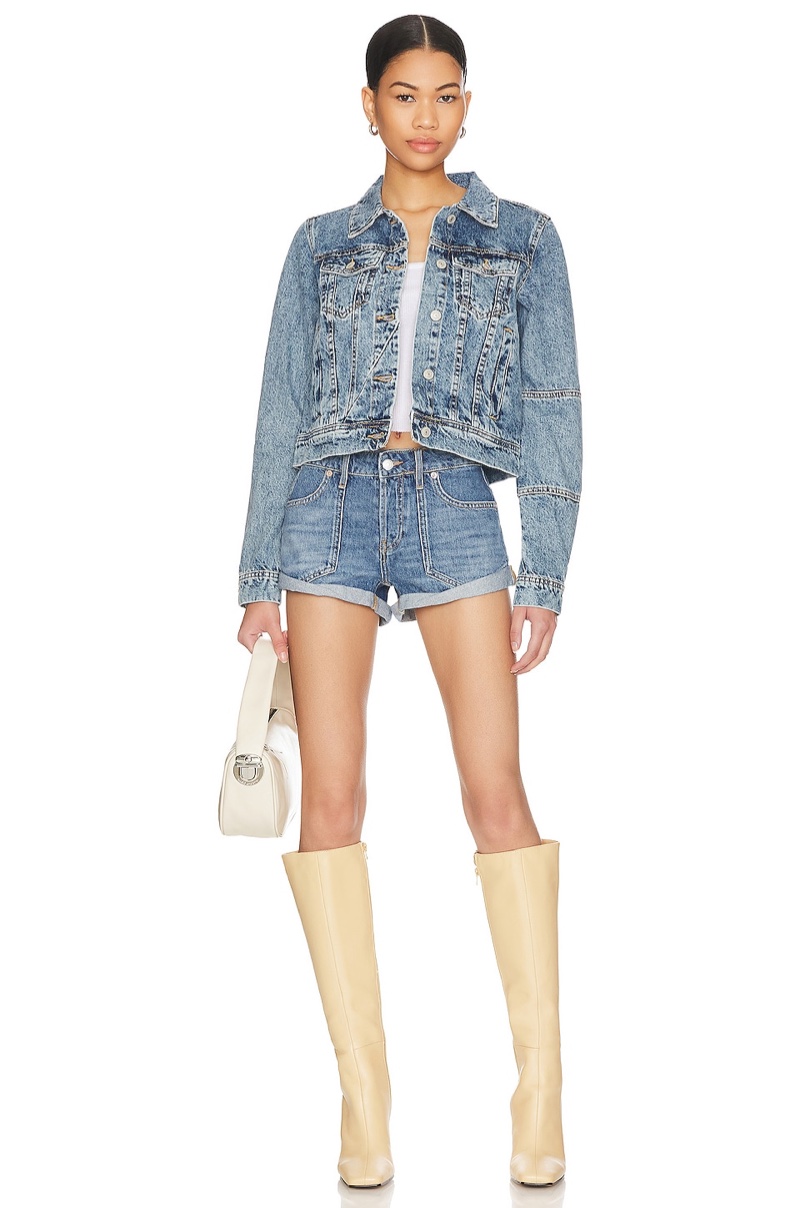 Embracing a youthful and vibrant vibe, the cropped denim jacket creates the perfect summer ensemble when teamed with a relaxed tee and denim shorts. This trio strikes a harmonious chord, merging modern flair with traditional comfort. 
The cropped cut accentuates the waist, adding a flirty twist to a casual day-out look. Pair with ankle boots or sandals for a touch of laid-back elegance.
Double Denim with Mock Neck + Sneakers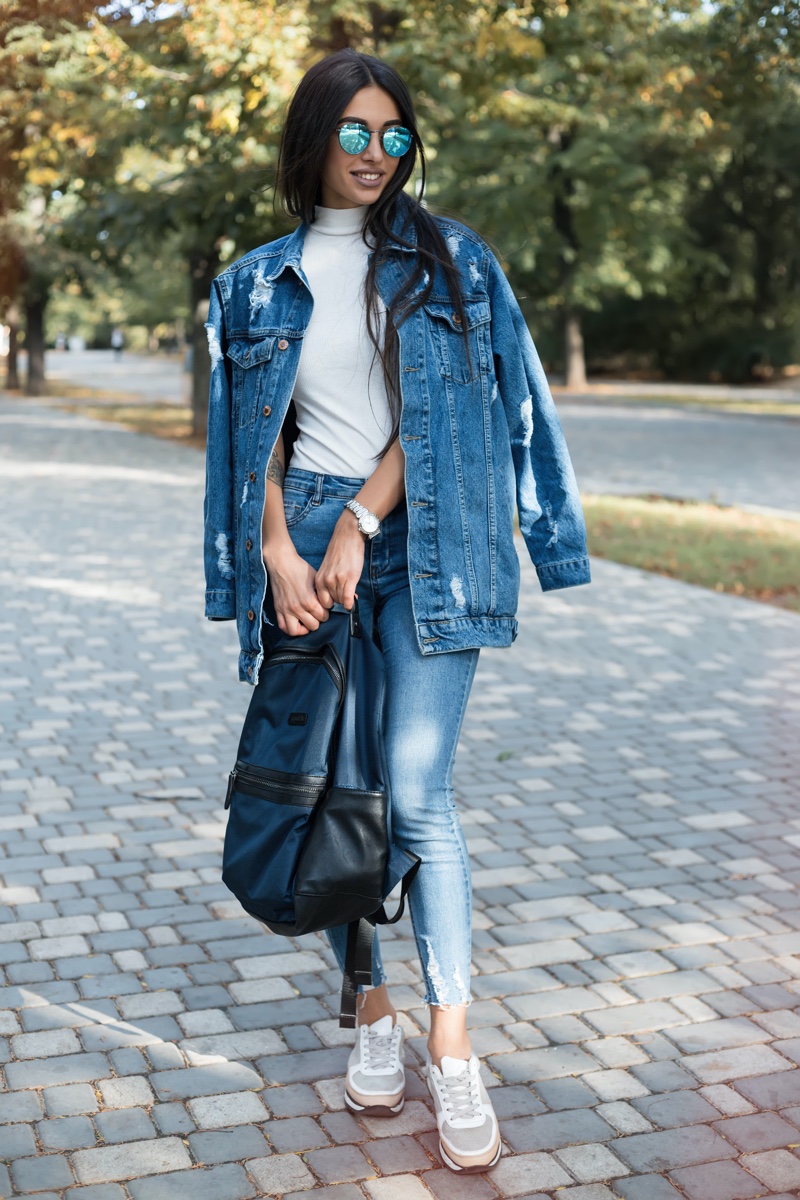 The double denim combination, enhanced by a sleek mock neck, is stylish and functional, blending urban chic and classic cool. The cohesive denim layers give a streamlined feel, while the mock neck provides a touch of sophistication. 
Paired with sneakers, the outfit instantly transforms into a perfect balance between everyday ease and fashion-forward edginess.
Patterned Double Denim with Neck Scarf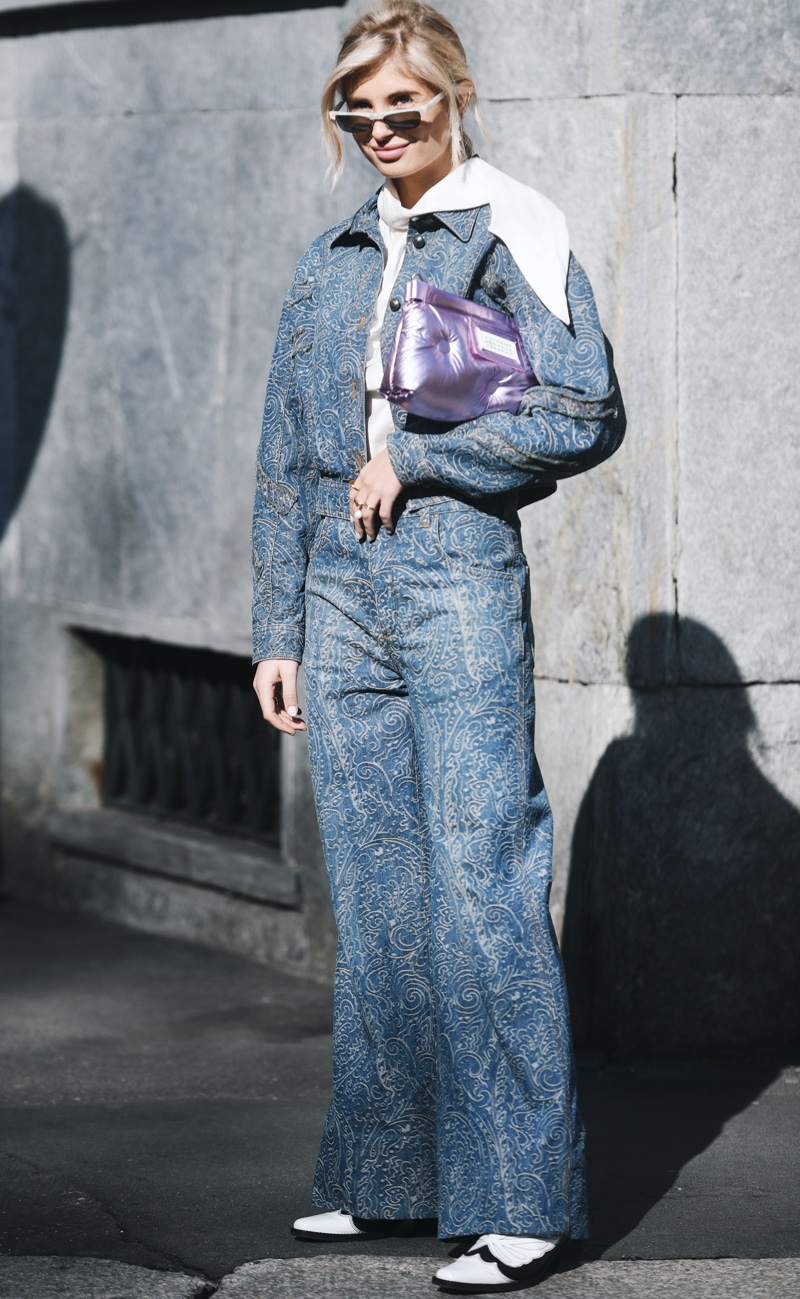 The patterned ensemble is a visual delight, infusing a splash of intrigue into the timeless double denim look. Accented with a neck scarf, this outfit gets an added layer of sophistication. 
The scarf breaks the sameness and adds a vintage touch, creating a chic juxtaposition with modern patterns. It's an ensemble that shouts confidence with a nod to vintage elegance.
Light Wash Jacket, Floral Print Dress + Platforms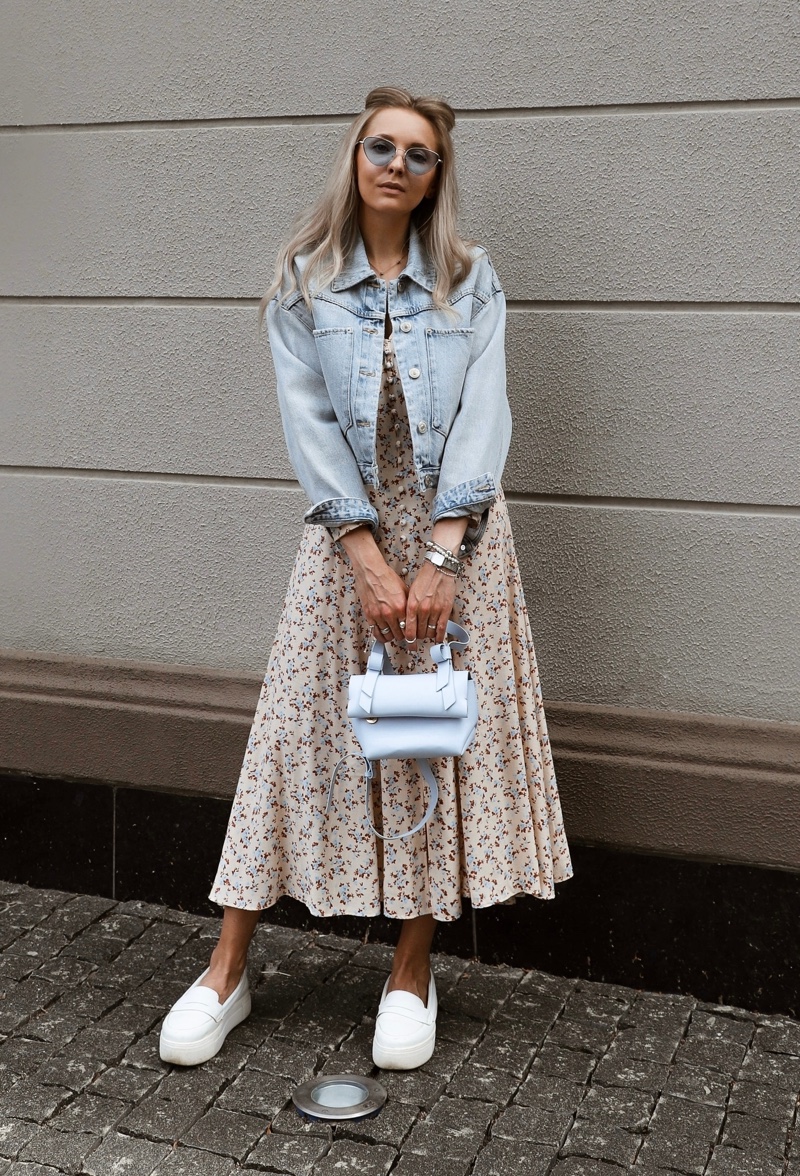 Embodying the spirit of spring and summer, the light wash denim jacket paired with a floral print dress is a breath of fresh air. The softness of the light wash contrasts beautifully with the vibrant floral patterns, creating a lively and balanced outfit. 
Elevated with platforms, the ensemble becomes a statement of whimsical style, perfect for sunny afternoons.
Metallic Coat, Layered with Denim + Wide Leg Pants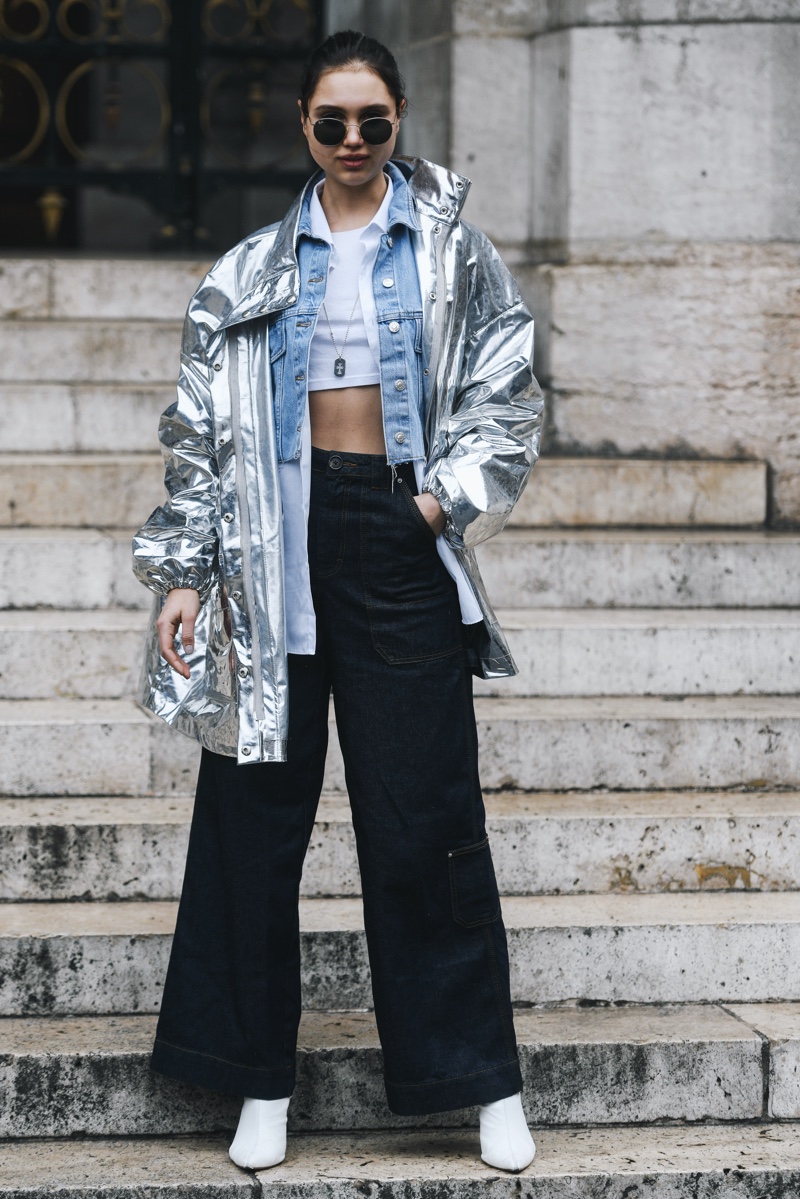 Channeling a futuristic yet grounded aesthetic, a shimmering metallic coat layered over a denim jacket creates a striking visual contrast. The glow of the coat juxtaposed with the earthy denim fabric anchors the look, while wide-leg pants boost the outfit's avant-garde essence. 
This ensemble celebrates fashion innovation, easily blending texture, luster, and volume.
Classic Jacket, Leather Shorts + Ankle Boots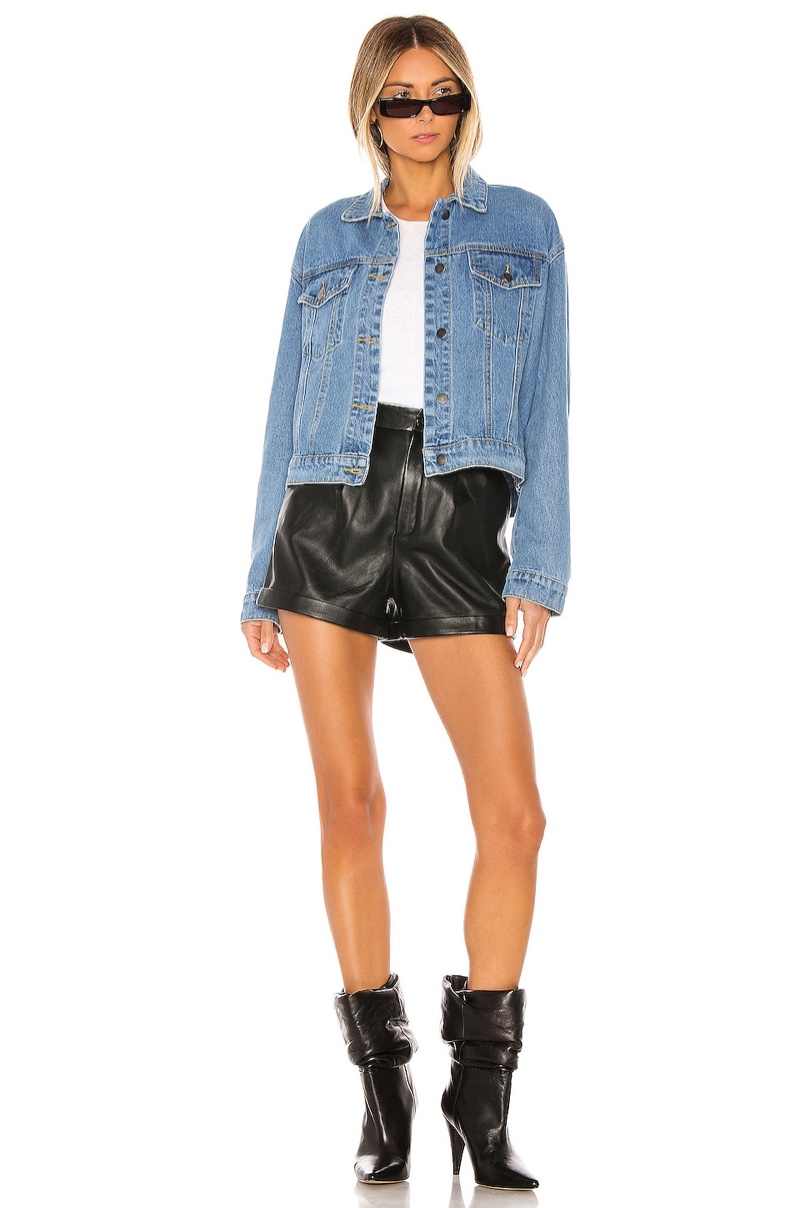 Combining timeless denim with edgy leather, the classic denim jacket paired with leather shorts is a fusion of old and new. The jacket's familiar comfort meets the bold statement of leather shorts, creating a unified balance between the two. 
When finished off with ankle boots, this ensemble becomes the epitome of urban chic, ideal for those looking to style confidently.
Distressed Jacket + White Mini Dress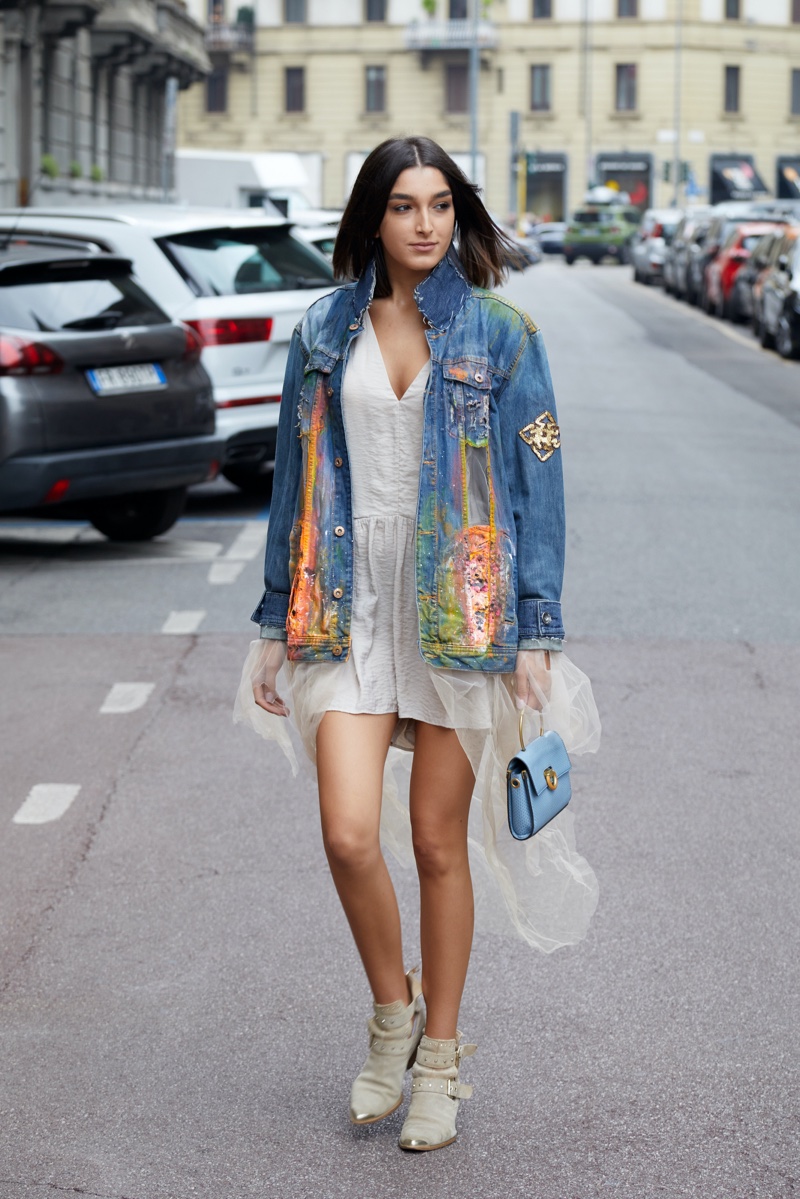 This outfit combines distressed denim with a white mini dress, creating a modern fashion duality. The distressed jacket's rugged texture balances the white dress's delicate nature. 
It's a versatile look that suits daytime and evening events, balancing tough and tender styles. It's a statement of effortless elegance with a hint of rebellious charm. Finish your look with western-style boots for another rugged element.
Light Wash Jacket, Graphic Tee + Leather Skirt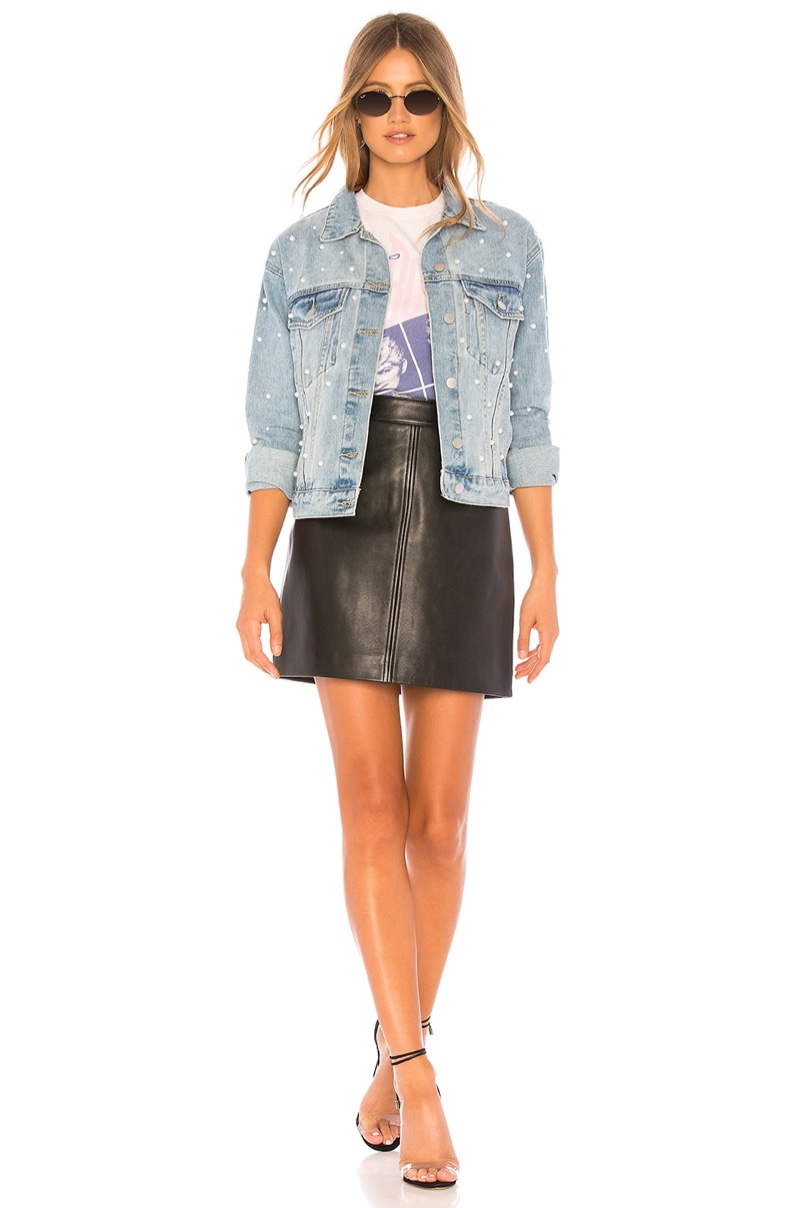 Embracing a rocker-chic vibe, the light wash denim jacket teamed with a bold graphic tee and a sleek leather skirt is edgy and playful. It's also the perfect look to wear at a concert! 
The jacket's casual feel beautifully contrasts with the skirt's rebellious nature, while the graphic tee adds a punch of personality. When paired together, this trio captures the spirit of fearless fashion, perfect for those unafraid to mix textures and attitudes.
Light Wash Jacket, Crop Top, Leggings + Tied Sweater Around Waist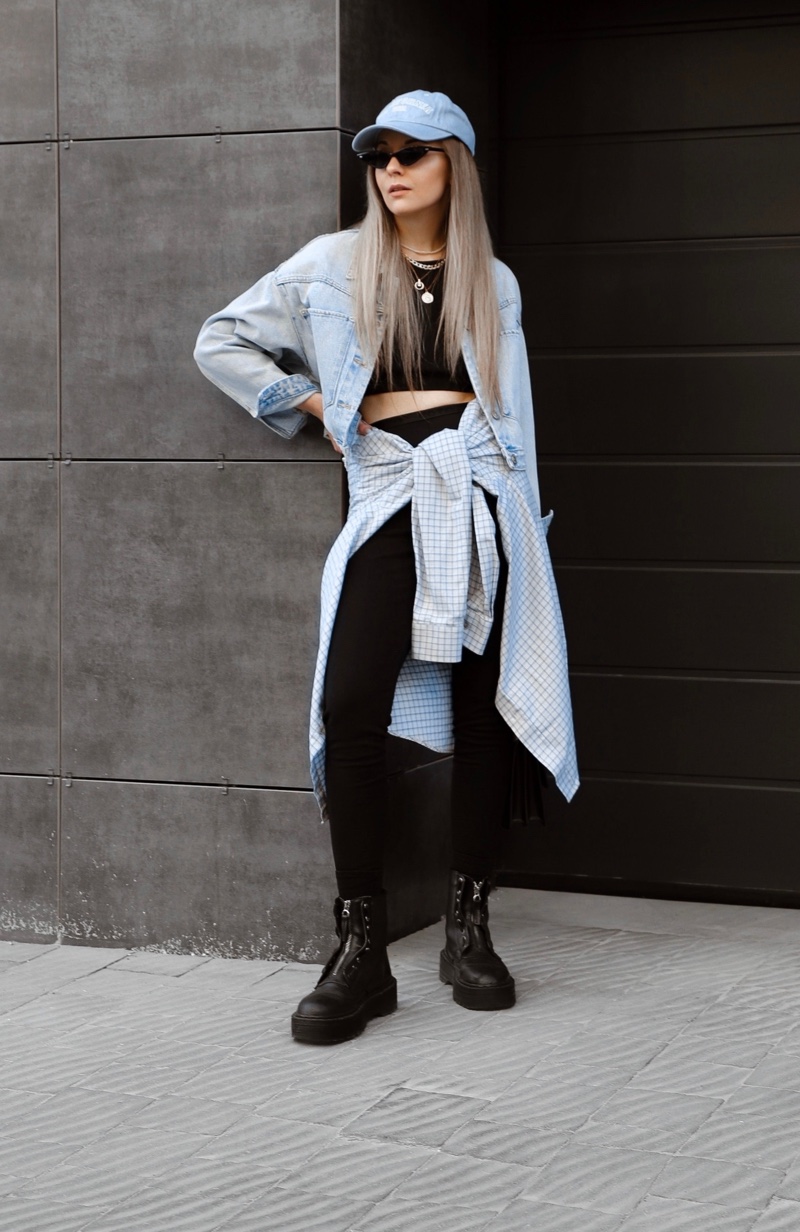 This outfit celebrates casual comfort with a hint of nostalgic style. It features a light-wash denim jacket that adds a cool nonchalance paired with a crop top and leggings for an easygoing vibe. 
The sweater tied around the waist adds a dynamic layer reminiscent of '90s fashion while serving a practical purpose for unpredictable weather. This universal ensemble provides a street-smart aesthetic for urban adventures or casual weekends.
Final Words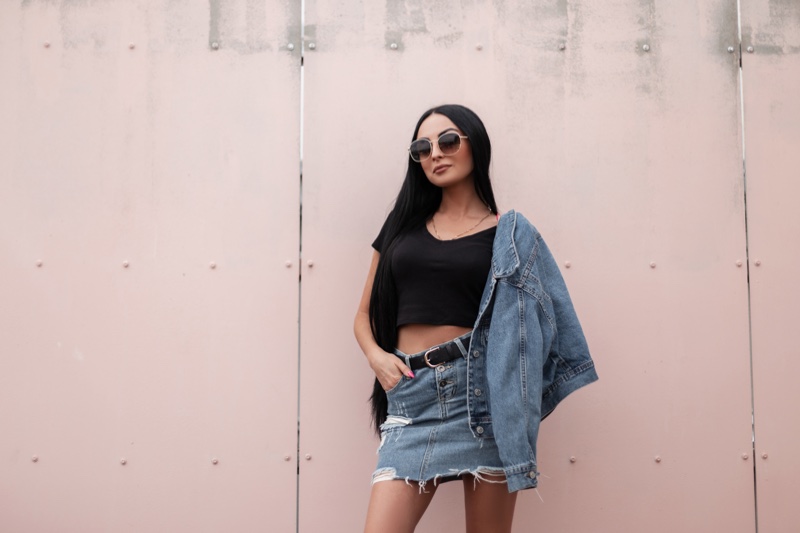 Understanding how to wear a denim jacket offers a practical tool for styling your wardrobe. Our guide has demonstrated the diverse ways a denim jacket can fit into numerous outfit combinations, proving its adaptability across seasons and occasions. 
Rather than being a fleeting trend, the denim jacket stands as a staple, effortlessly merging with various styles and personal tastes. As we explore the dynamic landscape of fashion, it's beneficial to know how to style foundational pieces like the denim jacket. 
Its versatility encourages both creativity and practicality in our daily wardrobe choices. Ultimately, while trends come and go, some elements remain constant, and the denim jacket's enduring presence in fashion is a testament to that.