Are you in the market for a new keyboard that blends high performance with versatility? Sharkoon Technologies, a renowned supplier of PC components and peripherals, has expanded its SKILLER SGK50 keyboard series with the introduction of three new models, each featuring a 75 percent layout. This addition brings innovation and customization right to your fingertips.
The SKILLER SGK50 S3 keyboard is available in both standard and barebone versions, the latter offering a unique opportunity for personalization by excluding switches and keycaps. This model is offered in both black and white, catering to different aesthetic preferences. A visually distinctive version features white PBT keycaps accented with blue highlights, creating a stylish addition to any desk setup.
Building on the success of the SKILLER SGK50 S4, the SGK50 S3 introduces hot-swap capability for 3-pin and 5-pin switches, along with a larger layout that includes dedicated arrow and function keys. A notable innovation is the Sharkoon key, which simplifies programming up to two macros and adjusting illumination without needing separate software. For those seeking advanced customization, the keyboard is compatible with QMK and VIA open-source software, allowing extensive personalization of its features.
Sharkoon SKILLER SGK50 keyboard barebones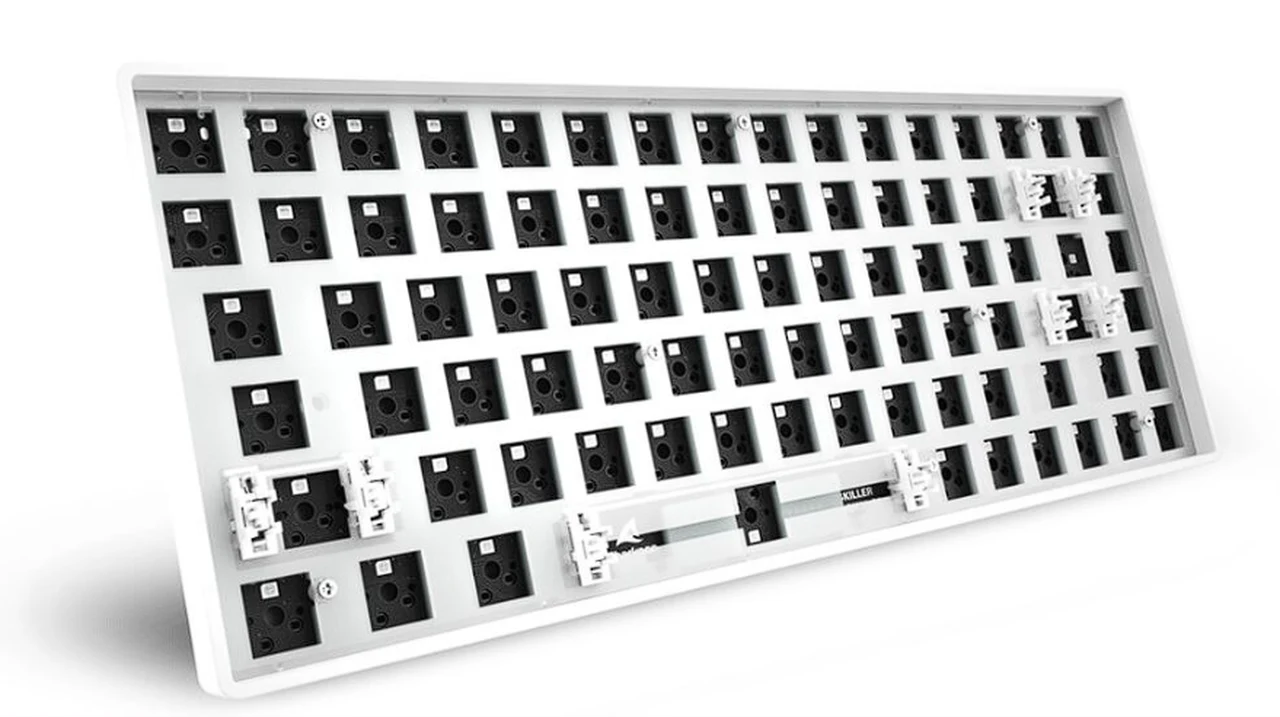 The SKILLER SGK50 S3 also boasts a selection of pre-installed Gateron switches, including red, yellow, and brown options. The PBT version upgrades to the latest G Pro Yellow switches for an enhanced experience. For enthusiasts who enjoy experimenting with different switches, the Barebone version accommodates both ISO and ANSI layouts.
Sharkoon has emphasized not only aesthetics and customization but also a high-quality typing experience. The keyboard features a polycarbonate positioning plate, double-layer silicone damping, and factory-lubed stabilizers, ensuring a premium feel. The PBT model includes grease-resistant keycaps with durable legends produced through dye sublimation.
In terms of pricing and availability, the standard black version is priced at 79.90 euros, while the barebone variant is available for 59.90 euros. White versions are expected to follow. The PBT model is offered at 89.90 euros, providing an option for those seeking a higher-end version of this versatile keyboard.
If you are wondering how this fits into your setup, consider the versatility and customization options Sharkoon offers. Whether you are a gamer, programmer, or just appreciate a well-built keyboard, the SKILLER SGK50 S3 series promises to meet your needs.
Filed Under: Hardware, Top News


Latest aboutworldnews Deals
Disclosure: Some of our articles include affiliate links. If you buy something through one of these links, aboutworldnews may earn an affiliate commission. Learn about our Disclosure Policy.